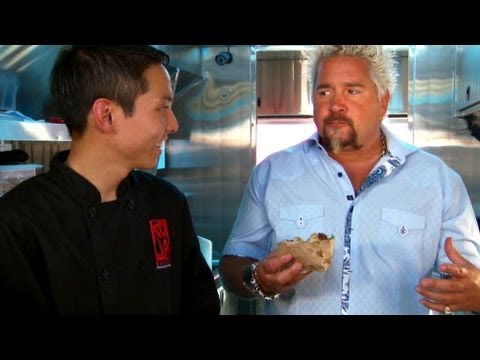 Miller's East Coast Deli Featured on Diners, Drive-Ins and Dives with Guy Fieri
Bay Area's Own "Miller's East Coast Delicatessen" Featured on Food Network's Dinners, Drive-Ins and Dives on September 9th, 2013
San Francisco and Marin County's Venerated Eatery Brings It's Old World Jewish Delicacies to a National TV Audience for the first time.
August 23rd, 2013 – San Francisco, CA – East Coast transplants and Bay Area natives alike have long known the secret to finding great New York-style deli locally is visiting Miller's East Coast Delicatessen in San Francisco and San Rafael. Now the rest of the country is set to share the news when Miller's debuts on Diners, Drive-Ins and Dives September 9th, 2013 on the Food Network. ,,, READ MORE.
Leave it to a boy from Baltimore to run a New York deli in San Francisco. Chef/owner Robby Morgenstein takes his deli seriously, heaping the finest deli meats atop fresh, chewy bread for the best sandwiches on the West Coast.
Brisket to Brei, Burgers to Breakfast
You'll find all the Old World deli foods you've been craving, from stuffed cabbage to chopped liver to latkes to brisket to matzo brei. Robby's been serving the Jewish classics — as well as his famous freshly made salads, soups, sandwiches, burgers, breakfast and plenty more — to hungry locals and tourists alike since 2000.
The fantastic food is only made better by the authentic deli atmosphere, complete with old- fashioned food advertisements and local art; Robby will even yell at you if you're extra nice. Miller's underwent a major renovation in 2010, when Robby installed a beautiful, state-of- the-art brick pizza oven.
Pizza? In a Deli? Oy.
And just in our San Francisco location it may seem meshuga, but Robby is completely and utterly confident that once you taste his handcrafted, classic, Italian thin-crust pies, made to order in the brick oven, you'll call him a deli and pizza maven.
Come to Miller's East Coast Deli for a nosh or a meal. Grab something to go from our full-service deli. Dial for delivery right to your door. Let us cater your next business or social event. Miller's East Coast Deli: A million bubbes can't be wrong.